AIRkives, by NavInfoSys, stands at the forefront of cloud-based Air Navigation Service Provider (ANSP) information management solutions, designed to enhance access and seamless sharing of critical information. Our cutting edge platform empowers your organization across multiple domains, including Aeronautical Information Service (AIS), Safety, Training, Rostering, Manuals, Human Resources (HR), Communication, Navigation and Surveillance (CNS), and ICAO compliant Archives
Experience the future of ANSP services with AIRkives, where efficiency meets innovation – choose AIRkives by NavInfoSys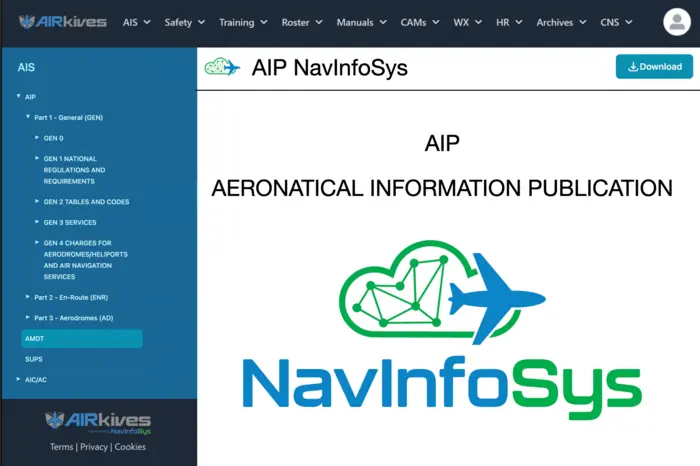 AIS - Unlock the future of aviation information management with our AIS Module – your gateway to aeronautical efficiency. Transition seamlessly to electronic AIP (eAIP) for immediate distribution, cost savings, and environmental sustainability, all in compliance with ICAO Annex 15.
For users, it's about effortless browsing, secure archiving, and verified authenticity.
For AIS offices, it means improved products, consistency, streamlined processes, and reduced costs.
Join us in the digital revolution for a smarter, greener, and more efficient aviation industry.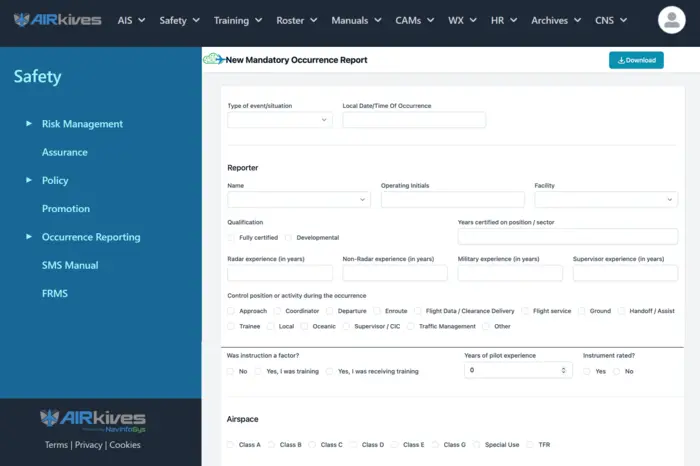 Safety - Elevate Safety Standards with Our All-Inclusive Safety Module. Our Safety Module is your gateway to enhanced safety management. It contains forms and tools for Safety Risk Management (SRM), Safety Assurance, Safety Policy and Safety Promotion in an easy to use interface. Our solution also provides: Mandatory and Voluntary Occurrence Reporting, an electonic version of your SMS Manual, and tools for your Fatigue Risk Management System (FRMS). Need something else? No problem, we can include any pertinent safety related documents or forms that are part of your SMS, for easy access and management.
Seamlessly integrated, we enable ICAO-compliant electronic form entry, efficient data mining, and secure document retention for all your sensitive safety documents.
Level up your SMS with AIRkives.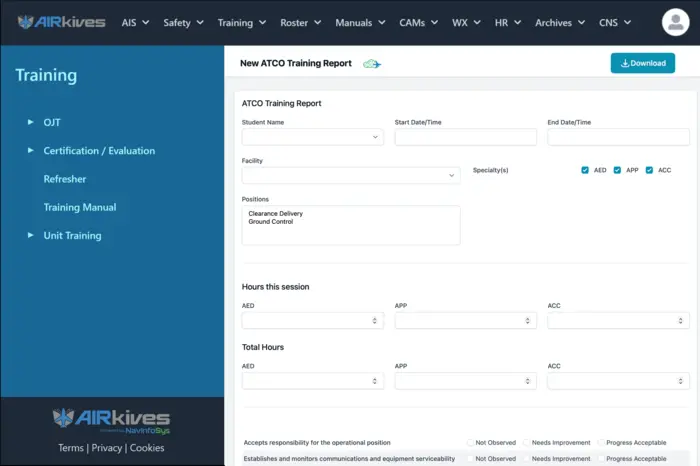 Training - Upgrade your taining and operations with our state-of-the-art system, designed to meet ICAO standards. Seamlessly collect and manage air traffic controller training, certification, refresher training, and training manuals and records with precision and ease.
Streamline your training processes, reduce administrative burdens, and empower your team to focus on what truly matters: delivering top-tier air traffic management services. Our technology will empower your ANSP to excel in an ever-evolving aviation landscape.
Experience the future of air traffic management today, with AIRkives - designed to keep you in control and ahead of the curve.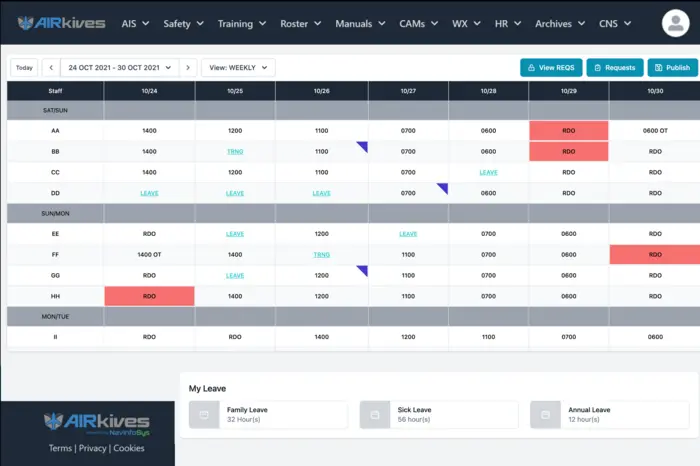 Rostering - Seamlessly schedule your Air Traffic Control Officers (ATCOs) while balancing fatigue risk management, employee ratings and certifications, time-off requests, efficiency, safety, and compliance in accordance with ICAO standards. .
By intelligently considering operational needs, it optimizes ATCO rotations, minimizing disruptions and enhancing airspace management efficiency. It ensures the right ATCOs are assigned to each shift, optimizing performance and safety. Integrate time-off requests into your scheduling process, allowing your workforce to enjoy work-life balance without compromising operational needs. Our system's intelligent algorithms ensure that overtime is managed judiciously, minimizing costs and maximizing productivity.
Unlock the full potential of your ANSP with a solution that is as precise as it is compliant. Take the leap and experience the future of ANSP scheduling, where safety, efficiency, and employee well-being converge to create a seamless and compliant air traffic control environment.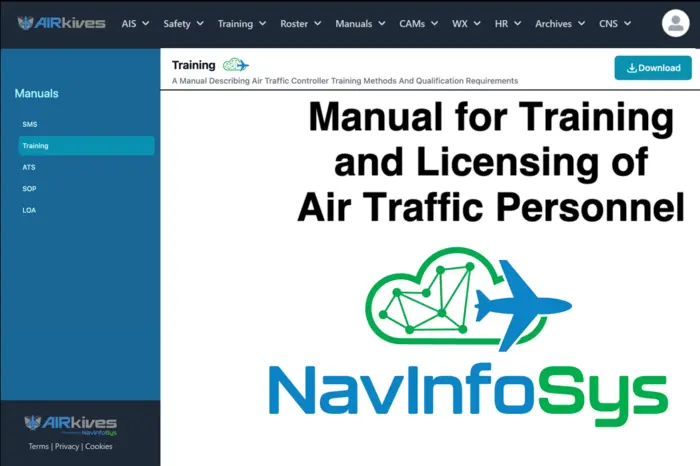 Manuals - Enjoy our state-of-the-art digital document management system, designed for ICAO compliance. Experience the future of document management, where vital manuals, orders, and documents are seamlessly organized and effortlessly accessible.
Our innovative solution empowers ANSPs to seamlessly transition from traditional paper-based methods to a digital ecosystem, ensuring efficient access to vital information. Say farewell to the burdens of paper-based systems with a user-friendly interface, ATCOs, ATSEPs, and all personnel can effortlessly retrieve the latest up to date documents, ensuring that every decision is grounded in the most up-to-date data, enhancing safety and precision.
With our ICAO-compliant system, you're not just staying up-to-date; you're setting the industry standard for efficiency and precision. Streamline your workflow, enhance safety, and make informed decisions with ease. Join the forward-thinking ANSPs who trust our cutting-edge technology. Your success is our priority, and AIRkives is your gateway to achieving it.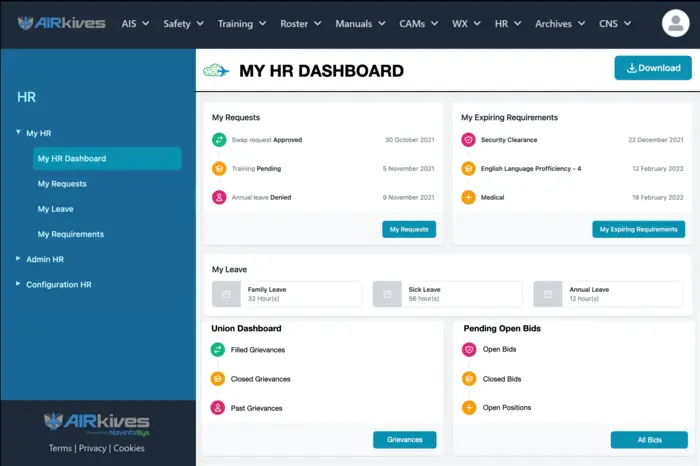 Human Resources - Manage your organization with our cutting-edge HR Management module, designed to simplify the complex task of managing personnel information, allowing you to ensure your operation is always ready to provide safe and efficient air navigation services.
Leave management is efficient and easy, ensuring that your critical operations remain uninterrupted. Organizational structure becomes transparent enhancing communication and accountability. Grades, ratings, and essential requirements like medical clearance and language proficiency are effortlessly monitored, guaranteeing that your personnel meet the stringent ICAO criteria.
With AIRkives, you're not just managing HR; you're elevating safety and compliance within your ANSP.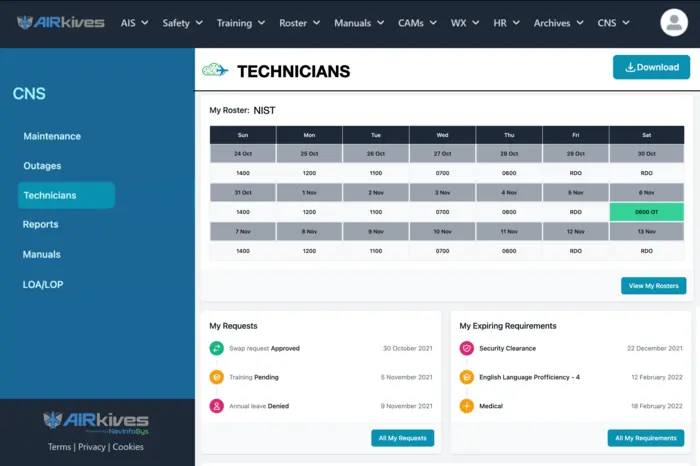 Communication, Navigation, and Surveillance -
Enhance your ANSP's capabilities with our cutting-edge CNS Management module. Elevate safety standards by ensuring constant availability of critical communication, navigation, and surveillance (CNS) functions. AIRkives empowers you to track maintenance and outages seamlessly, enabling proactive responses to potential disruptions.
Easily report and track equipment outages to have real time awareness of the health of your operation. Efficiently monitor maintenance schedules and identify potential outages in advance, allowing you to maintain uninterrupted CNS services, guaranteeing the safety of every flight under your watch.
With our CNS Management System, ANSPs gain a cruicial tool for ensuring the reliability and availability of safety-critical systems. Elevate your CNS capabilities and prioritize safety with our advanced solution. Your skies, our technology, a safer world.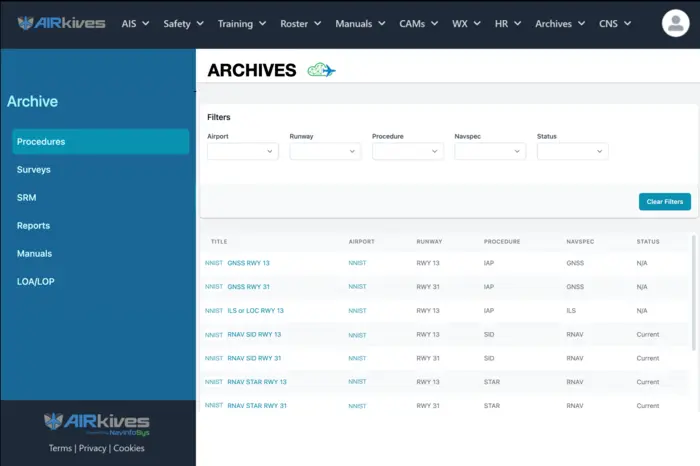 Archives - Preserve and access historical documents with our indispensable Archives module. Compliant with ICAO standards, this advanced solution empowers you with seamless archiving of historical documents. Effortlessly preserve, retrieve, and reconstruct vital documents, manuals, and supporting materials from your operational history.
With a user-friendly interface, AIRkives facilitates swift access to historical records, enabling effortless retrieval of historical records. Every policy, procedure, and operational guideline is meticulously stored, guaranteeing easy retrieval for both reference and reconstruction purposes. Using your Archives, you can effortlessly trace the evolution of procedures and policies, ensuring compliance with evolving regulations.
Enhance your ANSP's operational efficiency with a robust archival solution that adheres to ICAO standards. Embrace the power of our system and gain a comprehensive repository of historical data, supporting a culture of continuous improvement and safety within your organization.